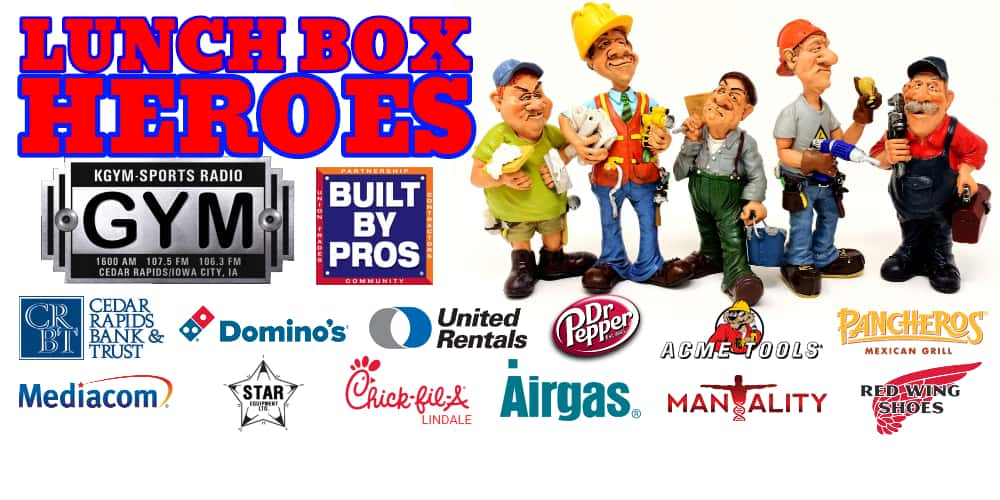 Lunchbox Heroes is BACK—Supported by Built By Pros!
Our brother station KGYM along with our generous sponsors are ready to recognize all of the hard working men and women at a record number of construction sites across the corridor! We'll hear a bit about the project and then treat the team with a delicious meal, drinks and prizes.
This week (Wednesday, May 23rd) The Gym Class heads to Van Meter, SW Cedar Rapids!
Head to the KGYM Lunchbox Heros page for lunch recaps, pictures, and podcasts!
Lunchbox Heroes is made possible with the support of these great sponsors:
Built by Pros, Cedar Rapids Bank & Trust, Chick-Fil-A Lindale, Acme Tools, Mediacom, Dr Pepper, Star Equipment, Domino's, Red Wing Shoes, Airgas, Pancheros, United Rentals, Mantality and of course KGYM Radio!
Information on Built By Pros:
Built By Pros- are the thousands of women and men who work for the signatory contractors, suppliers and skilled trade building industry unions in our region. We put our skills and training to work daily. We live here. We are building our economy and supporting our communities.
We live here. We Work Here. We Build Here.