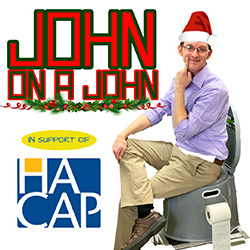 It's that magical time of the year — when homes throughout the Corridor receive the annual visit from the family North Pole Elf named Holly, Buddy, Jolly, or Nick!
Until THIS unforgettable year, when Smart FM welcomes the #1 Elf on our Shelf: Just John on a John!
Look for Just John (on his John) taking our Smart FM portable donation station to different locations throughout Eastern Iowa!
Each 2-hour Rock Stop is your opportunity to donate cash, non-perishable food items, or other items on the HACAP Wish List in hopes of filling our tank!
What mischievous, silly, funny, or daring adventures will Just John on a John experience this December?
Find Smart FM here:
• Saturday, December 15th: – Hy-Vee in Coralville from Noon – 2 PM
• Tuesday, December 18th: – J&A Tap in North Liberty from 6 – 8 PM
• Wednesday, December 19th: – Hy-Vee on Collins Road from 4 – 6 PM
Keep checking back here to see where our Just John on a John will be next!